Did you know?  
 At That's it. we do our very best to follow through with our mission to simplify snacking for everyone, including those with food allergies.
Although there are over 170 different known food allergens, 8 in particular are responsible for causing 90% of reported allergic reactions. These top 8 allergens are: dairy, eggs, peanuts, soy, wheat, fish, shellfish, and tree nuts.[i]
All packaged foods sold in the US are required to state whether their ingredients include any of the top 8 allergens. However, if an "allergy-free" food is made in a factory that also produces foods with allergens (like nuts), traces of the allergens can accidentally be incorporated into the product during the manufacturing process.[ii]  
With the constant and present fear of hidden allergens lurking in packaged foods, we know that shopping for allergy-friendly snacks can be tricky. That's why all That's it. Fruit Bars, Probiotic Bars, Mini Fruit Bars, and Chocolate Truffles are made in a manufacturing facility that is top 8 allergen-free. 
If you or a loved one suffers from a food allergy, you can rest easy knowing that That's it. snacks are free from contact with the 8 major food allergen groups (milk, eggs, peanuts, tree nuts (except coconut), fish, shellfish, soy, and wheat).  If you are allergy-conscious, you should always consult your doctor before consuming new products.
Discover your new favorite allergy-friendly snacks today!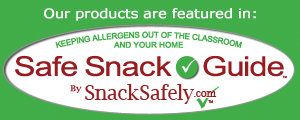 Shop Allergy-Friendly That's it.